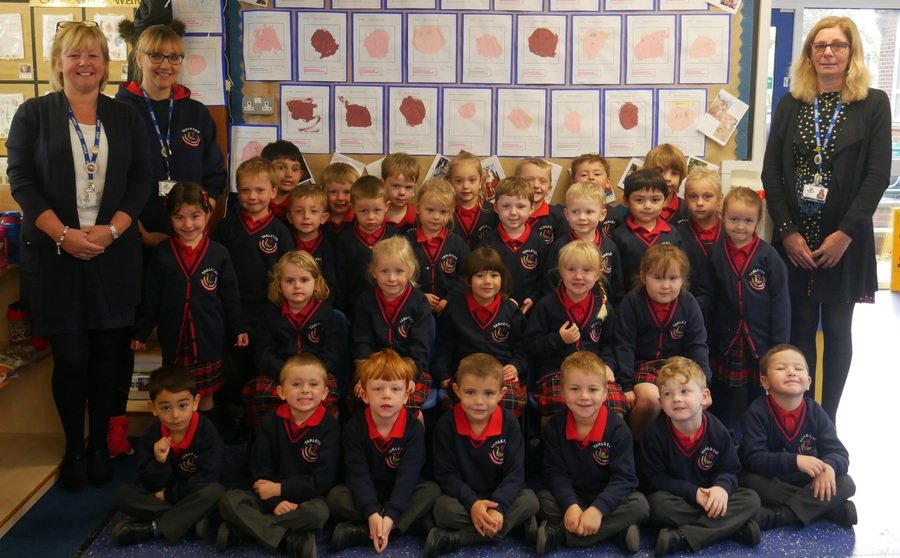 In Reception you will find the children in Violin and Viola classes, you will also meet Mrs Walmsley, Mrs Russmann, Mrs McCallum, Mrs Cookson, Mrs Brown, Miss Latham and Mrs Lear.
The children in reception love to learn and we do it best through our play. We always have lots of opportunities to learn whether we are playing indoors or outside.
When we start in reception there are lots of things that we can't do...however, we quickly learn a new magic word...YET! "I can't fasten my coat...yet." Thanks to this brilliant word our brains are constantly growing.
To find out more about how your child will be assessed during their reception year click here to access the government Development Matters document. For our curriculum theme overview click here.
Newsletter
Each half term we produce a newsletter to keep you up to date on what's happening in Reception. Click here to access this half term's newsletter.
Autumn 2
Colour and Celebrations
Christmas Party time!
As it's our last week in school before breaking up for Christmas we had a Christmas party! We had great fun dancing along to Go Noodle dances; playing games such as corners, Musical statues and musical bumps. We also had a visit from the big man himself - Santa! He came along to say hello to us all and gave all the classes a present. Thank you Santa - see you soon!
Christmas Nativity Play - Christmas Counts!
This year the reception children and Tiny Treasures put on a performance of the nativity play called 'Christmas Counts'. The children were all wonderful and sang their little hearts out. I think you'll agree that they all looked gorgeous in their costumes!
Colourful foods
We've been learning about instructions in our literacy lessons and to help us understand them we have been following instructions to make fruit pizzas and jam sandwiches! We had great fun making both, we had to make sure we had everything we needed first, then follow the instructions carefully. We learnt all about how bossy words are used in instructions.
Open Morning
We had an Open Morning and invited parents and children to visit our school to see if they would like to be in our Reception class next year. We had to tidy all the leaves in our playground ready and then show everyone how nicely we share and play with each other.
Everyone had a fantastic time and we shared with the little children and even let the mummies and daddies join in.
Anti-Bullying
To mark the start of anti-bullying week we all wore odd socks for the day - because it's OK to be different!
In reception we heard stories about children who wouldn't play with other children because of the colour of their hair, or the clothes they wore...they weren't very nice! We talked about the importance of sharing when playing and not leaving anyone out. We then went of to play nicely together trying hard to remember to share and to be kind.
Remembrance
We have been learning about Remembrance day and why we wear poppies. We have made poppies using lots of different materials and media - including painting, drawing, ICT and cutting. We also made a poppy wreath using the hand-prints of everyone within EYFS.
Clean Plate Challenge!
As part of our work for Remembrance Day, we looked at some posters from the Second World War. They had slogans on them such as 'Make do and mend' or 'Grow your own'. We talked about the fact there wasn't much food about during the war and people were told not to waste food. We then talked about how there are still lots of starving people in the world and that it was still important not to waste food. We then decided to have a 'clean plate challenge! The parents sent in photographs of clean plates at dinner time and we tried really hard to only take what we would eat at lunchtime in school, and then eat it all up. Take a look at how well we did!
Just Playing!
Some of the best learning is done through play, and best of all we don't needs lots of expensive toys to do it! Look at what we can do with a few crates, tyres, planks of wood and our imaginations.
Halloween Fun!
We used some card and pipe cleaners to make pumpkins today! We had to concentrate really hard to do the threading, but we were really proud of the finished results.
We also made some spooky spider biscuits...
Countryfile Ramble
On Friday 19th October we went on our very own Countryfile Ramble. All the children from KS1 and EYFS took part in this annual event. Thank you to all the parents and grandparents who came to help. We will let you know how much money we managed to raise once we've collected it all in.
Sense of smell
We explored our sense of smell by wearing a blindfold and trying to guess what things were in the cups. We got to smell orange, banana, mints, vinegar and cheese and onion crisps. The crisps were very tricky to identify.
Listening Ears!
As part of our Ourselves theme we've been learning about our senses. We made giant listening ears and then played listening bingo. We had to identify lots of different sounds such as a microwave, a phone, coins in a tin and a doorbell.
Our first day at school
We started school on Wednesday 5th September. We all looked very lovely in our brand new school uniforms. Take a look at our pictures and see for yourself!
We are famous
In our first week at school the Lancashire Evening Post came to take our photograph and put us in the paper. We think we looked very smart.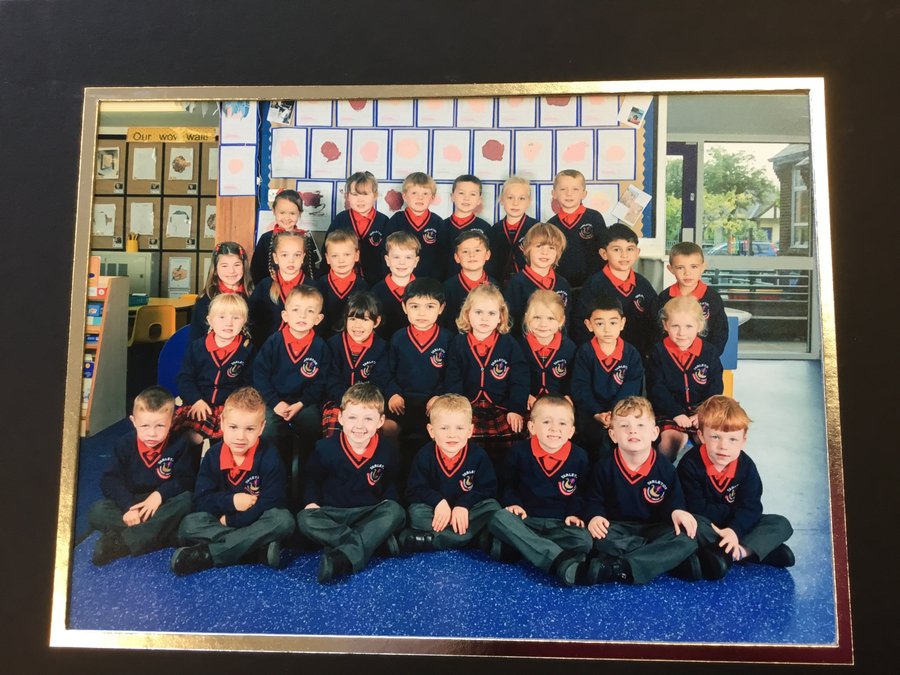 Baby Deia's Visit
On 26th September we had a very special visitor to our class. Baby Deia came to see us, she was only 8 weeks old. We talked about how we have changed from when we were babies to now. We asked Deia's mummy lots of questions and found out that she can't walk or talk, she needs help to feed and change her nappy and she is very wiggly.