Welcome to Tiny Treasures
In Tiny Treasures you will find a group of enthusiastic little learners all aged 3 or 4. You will also meet Mrs Walmsley, Mrs Russmann, Mrs Rowcroft, Miss Radcliffe and Mrs McCallum. You may also see Mrs Cookson, Mrs Brown, Miss Lathom and Mrs Lear.
Autumn 2 - Colour and Celebrations
Colourful Foods!
We had great fun making fruit pizzas with the reception children. We used brightly coloured fruits on the top of our pizza bases. We all thought they were yummy.
National Muddy Puddle Day!
We had a great time celebrating National Muddy Puddle Day. We went down the bumpy track at the side of school and splished and splashed in all the puddles. As said by one of our Tiny Treasures "It was the best day ever!"
Open Morning
We had an Open Morning and invited parents and children to visit our school to see if they would like to be in our Reception class next year. We had to tidy all the leaves in our playground ready and then show everyone how nicely we share and play with each other.
Everyone had a fantastic time and we shared with the little children and even let the mummies and daddies join in.
.
Remembrance
We've been learning a little bit about why we wear poppies. We have tried to draw and paint poppies and even had our hands painted to help make our very own poppy wreath for Remembrance day.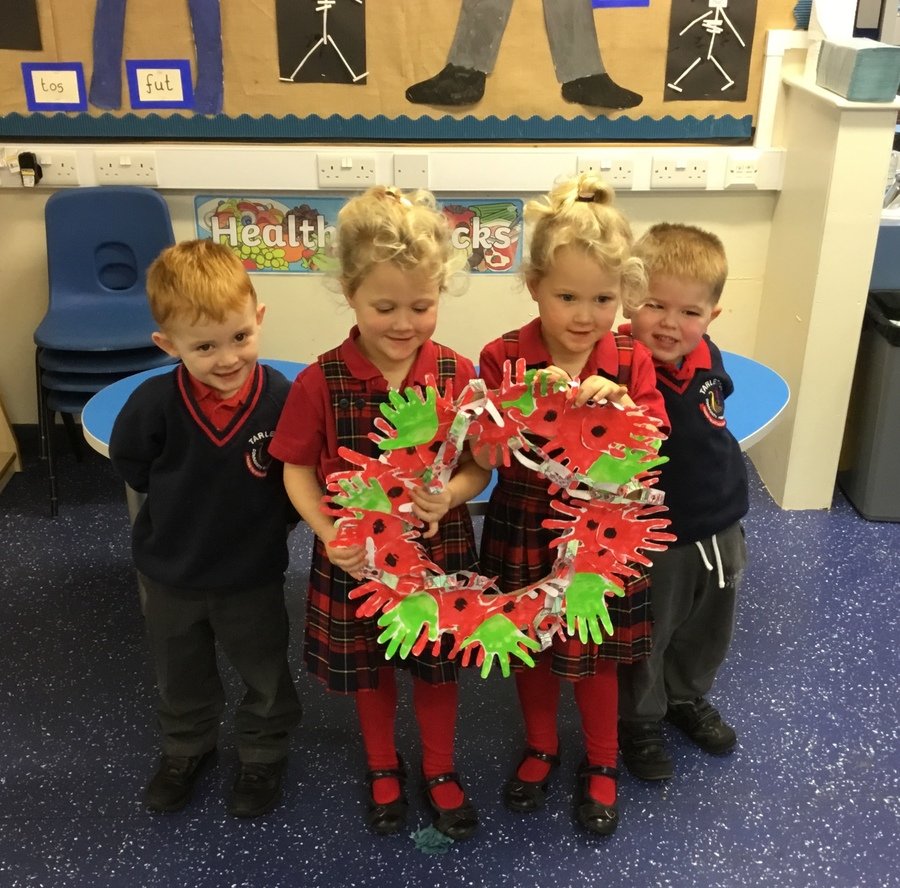 We've also been making delicious poppy biscuits - yum!
Countryfile Ramble
On Friday 19th October we went on our very own Countryfile Ramble. All the children from KS1 and EYFS took part in this annual event. Thank you to all the parents and grandparents who came to help. We will let you know how much money we managed to raise once we've collected it all in.
Parachute games!
We had great fun learning how to play parachute games with Mrs Rowcroft and Miss Radcliffe. Look at the smiles and the concentration on our faces.
Fun with play dough!
With a little help from our grown ups, we made play dough from scratch! It was a bit messy but great fun.